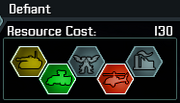 There are 5 types of units in End of Nations:
Each unit has it's own RPS values. RPS stands for rock-paper-scissors. It shows how good a unit is against a specific type of enemy. There are 5 types of RPS:
Several units can switch their weapons and change their RPS values to adopt the cituation in the battlefield. This includes:
Wraith class
Phantom class
Spartan class

Colossus which has 2 weapons, one of them is , and the other is
Additional links
Edit
Template:RPS http://en.wikipedia.org/wiki/Rock-paper-scissors
Community content is available under
CC-BY-SA
unless otherwise noted.